Back to Event List
Thu 09.25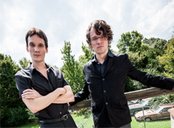 NORTH MISSISSIPPI ALLSTARS
Genre: Blues / Jam / Rock
Doors: 7:00 PM
Showtime: 8:30 PM
Tickets: This event has already occurred. Tickets are unavailable.

North Mississippi Allstars formed in 1996; the product of a special time for modern Mississippi country blues. Brothers Luther and Cody Dickinson soaked up the music of their father, Memphis legend Jim Dickinson, and absorbed the North Mississippi legacy while playing and shaking it down in the juke joints with their blues ancestors. R.L. Burnside, Junior Kimbrough, Otha Turner and their musical families were at their peak, making classic records and touring the world. Eventually, Luther (guitar, vocals) and Cody (drums, vocals) formed the North Mississippi Allstars and pioneered their own brand of blues-infused rock and roll.
Most recently, Luther and Cody have toured extensively with Robert Plant & The Band of Joy, headlined major festivals and toured internationally as a headliner and with Ian Siegal as part of The Mississippi Mudbloods. They also released two live bootleg records, 2011's Live in the Hills and 2012's Live in the Hills Volume II, both recorded at the annual North Mississippi Hill Country Picnic in Potts Camp, MS.
The North Mississippi Allstars are at times joined by Lightnin' Malcolm, Alvin Youngblood Hart, previous member Chris Chew, and a host of other talented musicians.
18 and up to enter. VALID ID required.