Back to Event List
Sat 02.18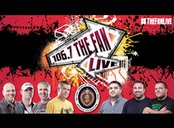 106.7 THE FAN LIVE
Genre:
Doors: 6:00 PM
Showtime: 6:00 PM
Tickets: This event has already occurred. Tickets are unavailable.

YOUR FAVORITE HOSTS FROM THE FAN TAKE THE STAGE TOGETHER FOR THE FIRST TIME FOR A NIGHT OF LAUGHS, BEHIND THE SCENES STORIES, AND MUCH MORE…
IT'S 106-7 THE FAN LIVE, AN UNCENSORED STAGE SHOW FEATURING THE SPORTS JUNKIES, DANNY ROUHIER, CHAD DUKES, AND SPECIAL GUESTS
PLUS…
STANDUP COMEDY FROM DANNY ROUHIER
A LIVE PERFORMANCE FROM MENTALIST AND MAGICIAN MAX MAJOR
AND MUSIC FROM THE BAND "FOR THE WIN"
You must be 18 or over to enter unless accompanied by your parent. Valid ID required.