Back to Event List
Fri 05.26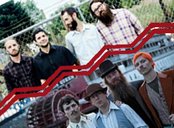 HEAD FOR THE HILLS and STRUNG LIKE A HORSE
With Dear Creek
Genre: Bluegrass / Rock
Doors: 7:00 PM
Showtime: 8:00 PM
Tickets: This event has already occurred. Tickets are unavailable.

From Telluride Bluegrass Festival to SxSW and all points beyond – Head for the Hills
creates a sound based in bluegrass that reaches into indie rock, jazz, hip hop, world
and folk to stitch together fresh songs that bridge the divide between past and future
acoustic music.
Strung Like a Horse is a high energy gypsy punk grass band based in Chattanooga, TN. They are coming fresh off of their third official release, FREE, and touring nationally. Your first taste of Strung Like a Horse is like that first sip of moonshine—it will blow your hat off your head and it's far more intoxicating than you expected. They draw inspiration from folk punk bands like The Violent Femmes, but their roots are buried deep in the good ol' fashioned home-made hillbilly stomp grass. These junkyard dogs bring "honest, playful, headbangingly interactive fun" to any venue their rocket crashes.
Amongst the orange and red fallen from trees lining the Shenandoah River, the duo of Dear Creek was born. In 2009, singer/guitarist, Kate Potrykus, and guitarist, Alex Salser, could be found writing songs between classes and playing local gigs on the weekends. Soon, Dear Creek grew into a 5-piece, inspired by the sounds of the Appalachian Valley in which they were cradled, and the jazz, blues, folk, and rock music, which moved them to become musicians in the first place. Two albums, several tours including a recent 16 State tour, and a few line-ups later, Alex and Kate have stripped down to the very foundation upon which they had started. Now catch Dear Creek live as a duo as they tour the country releasing their newest album, "So it Goes." Listeners will get tripped up in the roots of Dear Creek's energetic, acoustic grooves, and leave their show soothed by the sultry sounds of their soaring melodies.
You must be 18 or over to enter unless accompanied by your parent. Valid ID required.