Back to Event List
Sun 07.09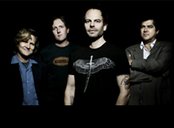 GIN BLOSSOMS
with Classified Frequency
Genre: Rock
Doors: 6:00 PM
Showtime: 8:00 PM
Tickets: This event has already occurred. Tickets are unavailable.

Please note: There are no more dining reservations available for this show. A limited number of dining tables will be available on a first come, first serve basis.
In the late 80's, Gin Blossoms started to grow a huge following as the #1 local music draw in Phoenix and certainly were the hometown heroes of their favorite hang, Tempe, Arizona.

Gin Blossoms indelible jangle-pop sound was evolving during radio's diverse mix of hair bands and grunge music superstars. They qualified to perform at the South By Southwest Music Festival in Austin Texas in 1989. That same year College Music Journal dubbed them "The Best Unsigned Band In America" and added an invitation to perform on MTV's New Music Awards in New York City. Their breakout record New Miserable Experience was where their rise to fame began. This album kept the band on the chart for almost 3 years with singles "Hey Jealousy," "Allison Road," Until I Fall Away," "Mrs. Rita," and "Found Out About You." The crossover hits on New Miserable Experience played on 4 radio formats and, to date, have sold over 5 million records.

Those hits were followed up by "Til I Hear It From You" which rocketed to #1 and moved the Empire Records smash soundtrack to platinum status. The track also became Canada's longest-running #1 hit of 1995, its #1 tenure lasting six weeks. This song was co-written with the great Marshall Crenshaw and Billboard described it as "the closest thing to a perfect pop song to hit radio in recent memory." Their next gem "Follow You Down" spent ten weeks in the top 10, and "As Long As It Matters" earned the band a Grammy nomination for "Best Performance by a Duo or Group" making their Congratulations I'm Sorry record another multi radio format favorite and multi-platinum success. Check out more here.
Classified Frequency: "The best parts of pop/rock from every decade but still new and unique" is a quote from a fan that seems to describe Classified Frequency perfectly. They are an exciting Power Pop (or as they like to say, Fusion Cock Rock) quartet from Maryland who have simply blown the doors off of the DC and Baltimore music scenes with their non stop, energetic shows and their super hooky, arena rock anthems.
You must be 18 or over to enter unless accompanied by your parent. Valid ID required.