Back to Event List
Sat 12.30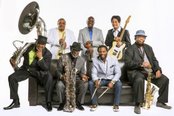 DIRTY DOZEN BRASS BAND
Genre:
Doors: 7:00 pm
Showtime: 8:00 pm
Tickets: This event has already occurred. Tickets are unavailable.

PLEASE NOTE: There are no more dining reservations available for this show. A limited number of dining tables will be available on a first come, first serve basis.
To describe how the Dirty Dozen Brass Band has arrived at its 40th Anniversary, trumpet player Gregory Davis employs a tried-and true New Orleans-centric analogy: "It ends up being like a pot of gumbo – you drop in a little okra, drop in a little shrimp, you drop in some crabs. Before you know it, you've mixed in all these different ingredients and you've got a beautiful soup. That was our approach to music early on and it still is today." Check out more
You must be 18 or over to enter unless accompanied by your parent. Valid ID required.
Save some money! There's only a $1 fee when you buy your ticket in person at the box office..