Back to Event List
Fri 05.18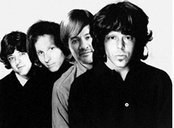 25th ANNIVERSARY SHOW!
JIMMIE'S CHICKEN SHACK
with Pocket Bells
Genre: Rock
Doors: 7:00 PM
Showtime: 9:00 PM
Tickets: This event has already occurred. Tickets are unavailable.

Jimmie's Chicken Shack is celebrating 25 years!!! They emerged through MTV as one of the first post-grunge bands of the era. Blending funk-metal with elements of ska and reggae but also a surprising acoustic prowess. Lead vocalist Jimmy HaHa grew up in Maryland and played with a group named Ten Times Big for several years. After the band broke up, he hit the snowboarding circuit for two years but then began several acoustic jams with friends. HaHa recruited drummer Jim Chaney (from Ten Times Big), longtime friend Che' Lemon on bass, and guitarist Dave Dowling (aka Double D) to form Jimmie's Chicken Shack. Based in Annapolis, MD, the group formed their own Fowl Records and released Give Something Back. After selling tens of thousands of records around the Baltimore area, Jimmie's Chicken Shack signed to Elton John's Rocket Records and released their major-label debut, Pushing the Salmanilla Envelope. Still involved with their own label, however, the group also released The Original Recipe, a collection of early recordings, followed in 1999 by Bring Your Own Stereo. A five-year wait preceded the release of Re.present in 2004.
Pocket Bells is an indie rock band from Baltimore, MD. The band draws on rock, pop, and classical influences to define their sound and energy. Raging drums and bass fill out the bottom while delicate guitar and keyboard arrangements dance across the top. With a dynamic live set, this band is not to miss! Pocket Bells is the winner of the 2017 WTMD William G Baker "Best-in-show" Merit Award.
You must be 18 or over to enter unless accompanied by your parent. Valid ID required.
Save some money! There's only a $1 fee when you buy your ticket in person at the box office.