Back to Event List
Sun 05.20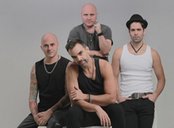 Caramelos de Cianuro
with Ocho de Bastos
Genre: Latin Rock
Doors: 6:00 PM
Showtime: 8:00 PM
Tickets: This event has already occurred. Tickets are unavailable.

Caramelos de Cianuro es una Banda de Rock de Venezuela formada en 1991. Considerados por muchos como el cuarteto más importante e influyente del país, Caramelos (apodo acuñado por sus seguidores) se encuentra en la cima de su carrera, con 25 años de trayectoria, 8 álbumes de estudio, 1 álbum en vivo, más de mil conciertos, múltiples nominaciones/premios y fans en todo el mundo.
Tienes que tener al menos 18 años de edad o ir acompañado por tu padre, madre o representante legal.
You must be 18 or over to enter unless accompanied by your parent. Valid ID required.

Save some money! There's only a $1 fee when you buy your ticket at the box office.