Back to Event List
Sat 04.13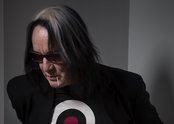 SIRIUSXM PRESENTS
TODD RUNDGREN - SATURDAY
THE INDIVIDUALIST TOUR
Genre: Rock
Doors: 6:00 PM
Showtime: 8:00 PM
Tickets: This event has already occurred. Tickets are unavailable.

There are no more dining reservations for this show. A limited number of dining tables will be available on a first come, first serve basis starting at door time.

Please note: This is an all seated show. No standing room avaialble.
GA: $55 ADVANCE / $60 DAY OF SHOW

GOLD CIRCLE (Seating in front of stage): $70
A Wizard, A True Star. The title of Todd Rundgren's 1973 solo album aptly sums up the contributions of this multi-faceted artist to state-of-the-art music. As a songwriter, video pioneer, producer, recording artist, computer software developer, conceptualist, and interactive artist (re- designated TR-i), Rundgren has made a lasting impact on both the form and content of popular music.
Born and raised in Philadelphia, Rundgren began playing guitar as a teenager, going on to found and front The Nazz, the quintessential `60's psychedlic group. In 1969, he left the band to pursue a solo career, recording his debut offering, the legendary Runt. But it was 1972's seminalSomething/Anything?, on which he played all the instruments, sang all the vocal parts, and acted as his own producer, that catapulted Todd into the superstar limelight, prompting the press to unanimously dub him 'Rock's New Wunderkind'. It was followed by such landmark LPs as The Hermit of Mink Hollow and the above mentioned A Wizard, A True Star, as well as such hit singles as I Saw The Light, Hello It's Me, Can We Still Be Friends, and Bang The Drum.
In 1974, Todd formed Todd Rundgren's Utopia (renamed and reconfigured in 1976 as Utopia), an entirely new approach to the concept of interactive musicianship, and embarked on an extensive round of touring and recording. Standout Utopia offerings included Oops! Wrong Planet, Adventures in Utopia, and Oblivion. Along the way, Todd Rundgren's Utopia combined technical virtuosity and creative passion to create music that initially, for millions, defined the term "progressive rock", and subsequently, as Utopia, the term "powerpop".
Rundgren's myriad production projects include albums by Patti Smith, Cheap Trick, Psychedelic Furs, Meatloaf, XTC, Grand Funk Railroad, and Hall And Oates. Rounding out his reputation as rock's Renaissance Man, Rundgren composed all the music and lyrics for Joe Papp's 1989 Off- Broadway production of Joe Orton's Up Against It (the screenplay commissioned by The Beatles for what was meant to have been their third motion picture). He also has composed the music for the hitfilm Dumb and Dumber, as well as a number of television series, including Pee Wee'sPlayhouseandCrimeStory.
In 2012 Rundgren performed his iconic 1973 album A Wizard A True Star in concert in its entirety for the first time ever, and last year did the same with a double bill: Todd & Healing. He has toured with Ringo Starr as an erstwhile member of the All-Starr Band since 1989, and continues to perform with symphony orchestras both domestically and internationally. His latest studio album, White Knight, was released last May, and this past spring he toured North America with original Utopians Kasim Sulton and Willie Wilcox for the first time in 33 years. His longawaited autobiography The Individulaist, will be in stores December 21. He embarks on the world's first hybrid concert/book tour this coming April/May, highlighting music across his 50- year career.
Last year on successive weekends he was awarded honorary doctorates from both the Berklee School of Music and DePauw University.
You must be 18 or over to enter unless accompanied by your parent. Valid ID required.

Admit one cards are NOT valid for this show.
Save some money! There's only a $1 fee when you buy your ticket in person at the box office.