Back to Event List
Sat 01.30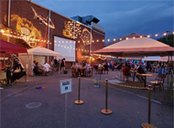 Free Outdoor Show!
Comedy Night
Genre:
Doors: 4 PM
Showtime: 5 PM
Tickets: This event has already occurred. Tickets are unavailable.

Comedy night returns for a free show on our outdoor stage!

Featuring: Dominique Grayer, Anders Lee, Michael Summers, Blaire Postman, Angel Morla, Kevin Skiffington, Christine O' Dea, Mike Brown, Jose Sanchez, Sandi Benton and special guest. Hosted by T.J. Ferguson.
This is an all ages outdoor show. Capacity is very limited. Entry is first come, first served, so we strongly suggest showing up early.



The ongoing impacts of COVID 19 are being felt now more than ever. As we enter another season we are faced with growing challenges and increased costs. Maintaining staffing and operating costs for our outdoor shows, providing PPE, stocking antibacterial cleaning products, as well as day to day expenses continue to be a struggle. While we provide 100% of our outdoor events for free, please consider a donation that will help us in our efforts to keep live music going in Northern Virginia. Thank you for all your support.
Scan or click the QR code below