Back to Event List
Tue 11.02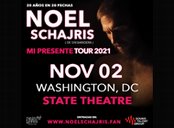 Noel Schajris
Genre:
Doors: 6:00 PM
Showtime: 8:00 PM
Tickets: $50 adv/$55 DOS/$100 VIP M&G

El cantantautor, pianista, productory ganador del Latin Grammy,Noel Schajris, ha vendido más de 25 millones de discos y 1 millón de entradas a sus conciertos desde el lanzamiento de su primer álbumcomo solista. Con el legendario dueto Sin Bandera, logróun destacado éxito internacional gracias a que junto conLeonel García crearon algunas de las baladas románticas más importantes en la historia de la música en español.

Sus videos musicales como solista rebasan las700 millones de vistas y sus redes sociales reúnen a más de 9.5 millones de seguidores en15 países.Ha grabado duetos con John Legend, Brian Mcknight, Luis Fonsi, Alejandro Sanz, Alejandro Fernandez y el grupo Reik, solo por mencionar algunos.

En 2018 fue invitado a cantar a dueto en los conciertos de Camila Cabello y Maluma. También aparecióen la portada anual del especial de hombres de Cosmopolitan y la edición del décimo aniversario de Esquire Latinoamérica.

A finales del2020 lanzó"Mi Presente", su segundo álbum como solista, acompañado de varios temas inolvidables como "Infinitamente Tuyo", "Vacío", "Breathe Again" y "Voy a Rescatar Mi Corazón". Además,Noelparticipócomo como uno de los jurados en el programa colombiano"A Otro Nivel".

¡En el 2021 Noel Schajris celebra 20 años de carrera artísticay se prepara para su gira en Estados Unidos!


You must be 18 or over to enter unless accompanied by your parent. Valid ID required.
Save some money! There's only a $1 fee when you buy your ticket at the box office.