Back to Event List
Sun 04.15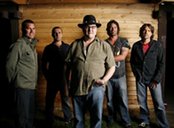 BLUES TRAVELER
plus Justin Trawick Group
Genre: Jam / Rock
Doors: 6:00 PM
Showtime: 8:00 PM
Tickets: This event has already occurred. Tickets are unavailable.

Having played over 2000 live shows, recorded eight studio albums, sold more than ten million units, and aired the longest-charting radio single in Billboard history ("Run-Around"), Blues Traveler doesn't need much of an introduction. After a twenty-year career the band is still exploring new territory in the studio with their most recent album North Hollywood Shootout and is touring like fresh talent. The three original members John Popper, Chandler Kinchla, and Ben Wilson, with the addition of Tad Kinchla and Brendan Hill are known for their legendary live shows, creative songwriting, and adventurous sound. The five members of Blues Traveler, and the pioneers of the jam-band genre are still enthusiastically sharing their love of music with fans and listeners everywhere.

Ages 18 and up. VALID ID required.