Back to Event List
Fri 01.19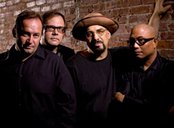 An evening with...
THE SMITHEREENS
Genre: Classic Rock / Rock
Doors: 7:00 PM
Showtime: 9:00 PM
Tickets: $24

Dressed in leather, brandishing heavy guitars, and an unabashed fetish for British Invasion pop, the Smithereens were an anomaly in the American college rock scene of the late '80s. They came onto the national radar in 1988, and the first single, "Only a Memory," not only became a college and modern rock hit, but it crossed over to album-rock stations as well. The Smithereens made their attempt at big-time album-rock success with their third album, "11". Hiring producer Ed Stasium brought a heavier guitar sound, which made "A Girl Like You" a Top 40 hit, sending "11" to gold status, and solidifying their spot in our memories.
You must be 18 or over to enter unless accompanied by your parent. Valid ID required.