Back to Event List
Wed 11.10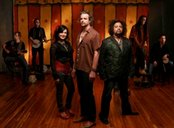 RUSTED ROOT
with special guest Assembly of Dust and Adam Ezra
Genre: Jam / Rock
Doors: 7:00 PM
Showtime: 8:00 PM
Tickets: This event has already occurred. Tickets are unavailable.

Over the course of the past 17 years, RUSTED ROOT has become a staple in the rock world as one of the most innovative bands in the new wave jam scene.

Forming in 1992 and hailing from Pittsburgh, Pennsylvania, RUSTED ROOT created a sound which melded several styles and genres of music together to create a melodic and smart sound, without loosing funk or style. After releasing their 1994 platinum-selling album When I Woke, the band turned several heads and scored touring spots with artists such as The Grateful Dead, Jimmy Page/Robert Plant and The H.O.R.D.E. Festival.

Their most recent album, Stereo Rodeo, released in May '09 after a seven year is absence from recording, has the Pittsburgh Tribune hailing "it's arguably the most diverse album in Rusted Root's 20-year career. There's the foot-thumping rockabilly of "Dance in the Middle," the Wire-meets-XTC vibe of "Bad Son," and the bookends "Driving One" and "Driving Two," hyper-speed aural travelogues".
They hit the road again bringing along special guests Assembly of Dust. AOD's new album (Some Assembly Required) recorded over the course of two years, showcases Genauer's [singer/songwriter behingd AOD] maturation as a songwriter, as evidenced both by the material and the all-star collaborations that dot all 13 tracks. It's rare to hear something so massive in scope and ambition, and yet so intricate in the tiny details. Hear more at http://www.aodust.com/
18 and up to enter. VALID ID required.