Back to Event List
Thu 04.14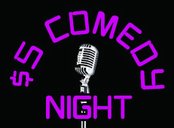 5 Buck Comedy Night
featuring Chris Barylick, Will Hessler, Courtney Fearrington, Lafayette Wright and Jermaine Fowler and hosted by Tyler Richardson
Genre: Comedy
Doors: 7:00 PM
Showtime: 8:00 PM
Tickets: This event has already occurred. Tickets are unavailable.

Bust a gut - not your wallet.
featuring comedians Chris Barylick, Will Hessler, Courtney Fearrington, Lafayette Wright
and Jermaine Fowler and hosted by Tyler Richardson.

Regular performer at clubs, colleges & comedy festivals.
Performed with numerous nationally touring headliners, sharing the
stage with Hal Sparks, Doug Benson & Todd Barry. Hosts a showcase
at the Arlington Cinema 'n Drafthouse every Thursday night at 8pm.
www.facebook.com/willhessler

www.twitter.com/willhessler
The founder of the Geek Comedy Tour (http://www.geekcomedytour.com) and a nerd at heart, Chris uses an energetic mix of pop culture, everyday humor and tech/nerd trivia to make fun of the things closest to him. He has performed at various venues throughout DC, Maryland, New York, Pennsylvania, Maine and Virginia and on Sirius satellite and XM radio.
Since the starting comedy Courtney has already shown he has the ability to make any group of people laugh. Growing up a military brat, joining the military, and being around a diversity of people helps him cross boundaries and touch on a variety of topics. Courtney has quickly become a fixture in the DC area comedy scene with his likable personality and quick wit. As a comedian Courtney has been featured at comedy clubs and festivals all over the country, including the Bentzen Ball festival. He has won and been a finalist in comedy competitions all over the DC area, and was a runner up in the annual DC's funniest college competition. Along with touring clubs all over the area he has been heard on his own weekly Internet radio show "Should Be Laughing", and also on DC101's syndicated radio show Elliot in The Morning. Courtney has worked with comics from The Last Comic Standing, The Sarah Silverman Program, The Daily Show, Reno 911, Comedy Central, Mad TV, SNL, and many more.
www.Bigccomedy.com
Lafayette Wright is unique in that he is a comic, to whose self-obsessions with rejection, inadequacy, and loneliness some can relate but most can laugh at. A favorite on the DC comedy scene for quite a while, Lafayette has been described as a compelling, layered and visually striking comedian. Armed with his clever material and a major inferiority complex, he is definitely an act worth watching.
LINK (to my blog? and twitter)
Lafayettewright.Wordpress.com, Twitter.com/lafayette247
Tyler Richardson has been making a name for himself in the DC, MD and VA
area working clubs and universities with a casual tone and naive delivery.
He has worked with national touring headliners such as Aisha Tyler, Rob
Cantrell, Alonzo Bodden, Reggie Watts, Kyle Grooms and more. In a very short
amount of time he could be heard on XM/Sirius Satellite Radio's Too Much
Information and was locally available through Comcast On Demand. Recently he
has been invited perform in comedy festivals across the country and just
performed at an international festival in Canada. Come enjoy his stories and
laugh until he is done going through your pocket contents and belongings, he
is not above looting. Please get to know him...
Only 22, Jermaine Fowler has accomplished so much in his career. On his 20th birthday, he moved to New York City with a small suitcase and big dreams. Soon after, he was being acknowledged in the New York Post's 50 Funniest Jokes alongside David Letterman and Jay Leno. He's performed in festivals across the country like the Aspen Rooftop Comedy Festival where he won the Rooftop Comedy Silver Nail Award. He's also performed as a finalist in NBC's Stand Up for Diversity and you may recognize him in commercials for SoBe Lifewater, Bud Light, Scion, and Microsoft Bing. You can also catch him in sketches for College Humor such as the "Honest 4 Loko Commercial" and the "Honest Grad School Ad".
www.jermainefowler.com
http://www.youtube.com/watch?v=cljxakvEag0
18 and up to enter. VALID ID required.