Back to Event List
Sun 10.09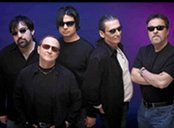 BLUE OYSTER CULT
plus Midnight Hike
Genre: Classic Rock
Doors: 6:00 PM
Showtime: 8:00 PM
Tickets: This event has already occurred. Tickets are unavailable.

Two years before Kiss , Blue Öyster Cult, the latest incarnation of a band assembled by guitarist Donald "Buck Dharma" Roeser and drummer Albert Bouchard in 1967, issued its dark, self-titled heavy rock monolith. Managed and produced by the astronomically minded and conspiratorially haunted Sandy Pearlman, BÖC rode the hot, hellbound rails of blistering hard rock as pioneered by Steppenwolf, fierce mutated biker blues, and a kind of dark psychedelia that could have only come out New York. Cryptic and ambiguous, BÖC has been tagged as everything from "
amphetamine-fueled occult music
" to "
Savoy Brown meets Canned Heat at Altamont
", to "
the thinking man's heavy metal group
" and all things in between.
Even in the early days, It was readily apparent that BÖC was well on their way to creating something new and menacingly different. If ever there were a manifesto for 1970s rock, one that prefigured both the decadence of the decade's burgeoning heavy metal and prog rock excesses and the rage of punk rock, "This Ain't the Summer of Love," the opening track from their fourth album
Agents of Fortune
, was it.
From the ultimate in early metal anthems "Cities on Flame With Rock & Roll", to the extraordinarily menacing and elegantly creeping doom of "(Don't Fear) The Reaper", to the stylistic triumph of 2001's "Curse of the Hidden Mirror", BÖC proves over and over that you can indeed mature without losing your cosmic edge.
Sorry for the delays - but the wait is officially over! Blue Oyster Cult returns to the State Theatre Sunday October 9. Don't worry, Monday is a holiday :-)
DC-rockers,
Midnight Hike
formed in 2008 and serve up a refreshing concoction of highly potent rock songs with a tasty pop finish. Veterans of regional and national touring bands, these six characters blended their musical histories into a righteous cocktail that goes down easy and begs for another. Their first album, "Long Way From Yesterday" produced by Frank Marchand (Cracker, Bob Mould) and Warren Boes (All Mighty Senators), was released in 2010 to significant media acclaim. Midnight Hike's music is deeply rooted in their belief that it should take you to places that you may not otherwise venture…kinda like a hike…at midnight.
18 and up to enter. VALID ID required.