Back to Event List
Thu 12.22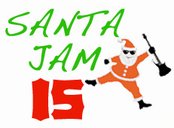 SANTA JAM XV
Genre:
Doors: 7:00 PM
Showtime: 8:00 PM
Tickets: This event has already occurred. Tickets are unavailable.

FEATURING Mary Ann Redmond, Soul Gravity, Linwood Taylor, Mark Wenner of the Nighthawks, Cathy King and the School of Rock!
On Thursday December 22th, Santa Jam 15 will take place at the State Theatre in Falls Church Virginia. John Perry (bass player for Tom Principato) started The Santa Jam in 1987 when he lived in New Jersey and now passes the torch on to The State. Santa Jam is a benefit for Doorways Homeless Shelter of Arlington which provides safe shelter for homeless women and children and victims of domestic violence as well as Music to Give - bringing live music to childen in hospitals.
Admission is a minimum donation of $10.
Also, if you can, please bring an unwrapped child's Christmas gift.

There is a team of friends who collect gift certificates from this areas finest restaurants, massage healing centers, golf courses, Best Buy, etc. Raffle tickets can be purchased to win these gift certificates, raising thousands of more dollars for Doorways for Women & Families.

Not only are the toys brought to these shelters, but the cash is converted to $10 gift certificates from Target. This way the individual families or the shelters themselves can purchase food, clothing, and toys distributed throughout the entire year as they're needed.
They receive and use the unwrapped toys throughout the year, for the holidays, birthdays and upon arrival. They say a child feels much more welcome and less afraid when they receive a toy they can call their own upon arrival.
These shelters benefit greatly from the generous donations of Santa Jam's attendees. So come on out - have some fun - AND do it for a good cause.

Santa Jam Mission Statement:
Santa Jam is a fun holiday season concert event that not only raises donations of cash and toys for needy families of Northern Virginia, but it also brings friends and families together for a night of holiday spirit, raffles, dancing and listening to some of the areas finest bands. We believe that as a community we should join together to celebrate the season of giving by helping those who are in most need.
Ages 18 and up to enter. VALID ID required.