Back to Event List
Thu 12.15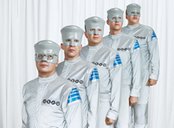 SPECIAL PERFORMANCE
DEVO
with Trippple Nippples
Genre: Rock
Doors: 7:00 PM
Showtime: 8:00 PM
Tickets: This event has already occurred. Tickets are unavailable.

8:00 PM Trippple Nippples
9:00 PM DEVO

"The world is in sync with Devo. We're not the guys who freak people out and scare them- we're like the house band on the Titanic, entertaining everybody as we go down." -Gerald Casale
Callling all Spuds: Devo is back and better than ever!
Formed in Ohio in 1973, Devo was one of the defining acts of New Wave with their science fiction themes, surrealist humor and satirical social commentary that played off the concept of "de-evolution". The band's sound, style and philosophy has been an influence on artists from Rage Against the Machine to Lady Gaga. Devo will perform classic material such as Billboard chart-toppers "Whip It" and "Girl You Want", along with songs from their highly regarded 2010 LP "Something for Everybody".
$57 General Admission
$120 Meet & Greet
Meet and Greet tickets include entrance to the show, a drink on us, and a meet and greet with Devo!
18 and up to enter. VALID ID required.
PLEASE NOTE this is an all standing event. Limited seating will be available in the balcony on a first come first serve basis.