Back to Event List
Tue 02.12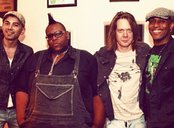 Soul Asylum
with Miles Nielsen and the Rusted Hearts
Genre: Rock
Doors: 7:00 PM
Showtime: 8:00 PM
Tickets: This event has already occurred. Tickets are unavailable.

Soul Asylum have been brining grudge punk rock tunes for decades for not only their growing fan base but to fulfill their desire to raise awareness about the injustices in the world. "Runaway Train" won a Grammy for best Rock song in 1994. Rightfully so; the song raised global awareness of missing children.
Their new album "Delayed Reaction" introduces a new band line up with Winston Roye on bass (worked with Lauren Hill, Jewel, Ace of Base and the Broadway musical Rock of Ages). Justin Sharbone has also joined as lead guitarist. Be sure to come out to fall in love with SA's new tunes and fall even more in love with their 90s timeless hits.
18 and up to enter. VALID ID required.