Back to Event List
Thu 06.21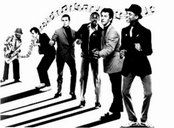 ENGLISH BEAT
Genre: Rock / Ska
Doors: 7:00 PM
Showtime: 8:30 PM
Tickets: This event has already occurred. Tickets are unavailable.

There are no more dining reservations for this show. A limited number of dining tables will be available on a first come, first serve basis starting at door time.

Fans abroad had been waiting to embrace these long time ska legends of the 1980's. Their reformation in 2003 turned heads and people took notice. The result was a sold out show at the Royal Festival Hall in the UK. That reception convinced the band to keep doing what they do – make great music.
"Consummate showman that he is, Dave Wakeling has continued to keep The Beat alive and strong. How could he not? Dave continues to tour the world as The English Beat with an amazing all-star ska backing band playing all the hits of The Beat, General Public, and his new songs." – Louis 'Sir Lou' Kahn
The English Beat is that fun and spirited band that never gets old. From playing sold out shows, recording multi-platinum records, donating to reputable causes, and simply making fans happy, it's not a surprise that they keep coming back for more. Grab your best threads and lace up your two-tone shoes friends. The beat is back.
You must be 18 or over to enter unless accompanied by your parent. Valid ID required.
Save some money! There's only a $1 fee when you buy your ticket in person at the box office.