Back to Event List
Sun 05.03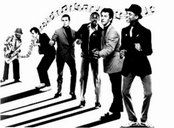 ENGLISH BEAT
with Nappy Riddem
Genre: Rock / Ska
Doors: 6:00 PM
Showtime: 8:00 PM
Tickets: This event has already occurred. Tickets are unavailable.

Fans abroad had been waiting to embrace these long time ska legends of the 1980's. Their reformation in 2003 turned heads and people took notice. The result was a sold out show at the Royal Festival Hall in the UK. That reception convinced the band to keep doing what they do – make great music.
"Consummate showman that he is, Dave Wakeling has continued to keep The Beat alive and strong. How could he not? Dave continues to tour the world as The English Beat with an amazing all-star ska backing band playing all the hits of The Beat, General Public, and his new songs." – Louis 'Sir Lou' Kahn
The English Beat is that fun and spirited band that never gets old. From playing sold out shows, recording multi-platinum records, donating to reputable causes, and simply making fans happy, it's not a surprise that they keep coming back for more. Grab your best threads and lace up your two-tone shoes friends. The beat is back.
Since releasing their debut album on Fort Knox Recordings in 2011, NAPPY RIDDEM has been busy touring nationwide and releasing a string of remixes, transforming itself into an uplifting and conscious reggae band that is funky enough to pack the dancefloor. Started by Mustafa Akbar and Rex Riddem, NAPPY RIDDEM is now joined in the studio and on stage by drummer Jon Modell as part of a six piece live band.
In 2013 Nappy Riddem released "The Rock Steady EP" and was awarded "Best Reggae Recording" by the Washington Area Music Association, in 2014. Nappy Riddem stepped out of the studio to focus on touring. They've toured north, south, east and west. The Riddem crew had the pleasure of supporting the English Beat, Go-Go rockers Experience Unlimited, Lee Scratch Perry, and Bob Marley's Legendary Guitarist Junior Marvin. Junior Marvin also selected Nappy Riddem to mentor and tour with him as his backing band during their California tour. The Highlight of which was headlining Joshua Tree Music Festival. Nappy Riddem's performances meld Reggae, Rock, and Soul together into their unique brand of "Dancehallfunk"
"Nappy Riddem weave dub, reggae and '70s soul into their new outing, One World Sovereignty, a worldly mix of sounds derived from the liberation music you might be used to hearing.", Dulani Wallace - The Vinyl District
18 and up to enter. VALID ID required.