Back to Event List
Thu 05.16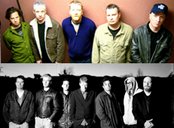 CRACKER AND CAMPER VAN BEETHOVEN
Genre: Rock
Doors: 7:00 PM
Showtime: 8:30 PM
Tickets: This event has already occurred. Tickets are unavailable.

David Lowery and his bandmates have entirely too much talent to limit themselves to just one band. They channeled this talent into two different groups, Camper von Beethoven and Cracker. Each band has rocked the State's stage before, but May 16th will be the first time that both bands visit us together! If you liked being low with Cracker's chart-topping hit, you'll love the sound Camper von Beethoven can bring to our theatre. 2 rocking bands, 1 fun night... Now all we need is you!
18 and up to enter. VALID ID required.