Back to Event List
Fri 07.12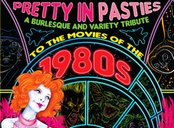 PRETTY IN PASTIES
with DJ Mellie Mel
Genre: Burlesque
Doors: 8:00 PM
Showtime: 9:00 PM
Tickets: This event has already occurred. Tickets are unavailable.

An 80s dance party with DJ MELLIE MEL will follow the show!!!

If somebody asks you if you're a god, what do you say? Does your teen angst have a body count? One, two, is Freddie coming for you? Do you have a compelling urge to say Beetlejuice, Beetlejuice, Beetleju…?

Then charge up your flux capacitor and hop in the Delorean cause this show is going to take you back to the future! Not chest-bursting aliens, slimers, or hockey-masked slashers will stop some of DC and Baltimore's best burlesque and variety performers from bringing you a tribute to films that shaped a generation, and that continue to be loved by new generations.

Filling out our band of Goonies are The Sweetie Pie with Fruit on the Bottom, CHERIE SWEETBOTTOM; the Galactic Empire's secret weapon, DDP DRILL TEAM; Baltimore's Sicilian Princess, MARIA BELLA; Burlesque's Naughty Librarian, MISSY AGGRAVATION; DC's Own Sideshow Girl, MAB JUST MAB; and Goblin Queen, MOURNA HANDFUL. Hosted by The Duckman, MC HOT TODD LINCOLN.

FilmRoasters out of Richmond, VA, will be showing film footage pre-show and intermission of some of the most iconic and underground classics of the 1980s. http://www.filmroasters.com

So if you gotta cut loose, footloose, put on your best Calvin Klein underwear, shave that teen wolf exterior, and eat before midnight. Then get ready to dirty dance, magic, dance!

18 and up to enter. VALID ID required.