Back to Event List
Thu 10.17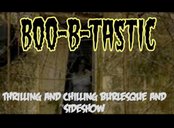 Palace Productions presents
Boo-B-Tastic!
A loosely themed Halloween show
Genre: Burlesque
Doors: 7:00 PM
Showtime: 8:00 PM
Tickets: This event has already occurred. Tickets are unavailable.

Grab those seats ladies and gents and get ready to be chilled and thrilled! Palace Productions has assembled a star studded cast just for you, Falls Church!

Halloween is a wonderful time for tricks and treats. We know you want more than that! When we say a loosely themed Halloween show - we mean just that! You are going to get some halloween and a whole lot of entertainment.

Starting with the truly delightful Mourna Handful, the sensational Candy Del Rio, the woman who loves everyone, Chicava Honeychild, striking Jazabel Jade and saucy boylesque extravaganza himself Luminous Pariah. MabJustMab will be the master of ceremony to guide you through Boo -B - Tastic, a loosely themed Halloween show! The Chocolate that melts your heart will be on deck to tantilize a little extra.

If you have been curious about burlesque or are already a fan, Boo- B- Tastic is the show for you.
18 and up to enter. VALID ID required.