Back to Event List
Fri 11.01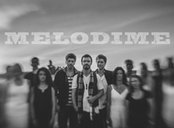 MELODIME
with Shane Gamble and The Morrison Brothers
Genre: Rock
Doors: 7:00 PM
Showtime: 8:00 PM
Tickets: This event has already occurred. Tickets are unavailable.

Most upcoming bands have dreams of fame and fortune, scoring No. 1 hits and platinum records, and becoming a household name. And, there's nothing wrong with that. But, MELODIME, a Virginia rock band that blends haunting bittersweet melodies with emotionally rich vocals atop a bed of Southern-flavored alt rock, is not like most bands. The mission of Bradley Rhodes (vocals, guitar) and brothers Sammy Duis (piano, bass) and Tyler Duis (drums) goes beyond the above.

Instead, MELODIME has something bigger in mind. Rhodes explains, "There are so many bands trying to do the same thing. Getting fans to pay money to see shows and buy the CD so they can get bigger and bigger. But we want to do something with our lives beyond the music to show people that you don't have to be famous to make an impact in this world."

The project that's going to help MELODIME accomplish that goal is their new album, "Where the Sinners & the Saints Collide," which was funded by their loyal and ever-growing fan base during a 30-day campaign titled, "Make an Album, Change a Life." With the album fully funded, the band is donating 100% of the profits from album sales to a non-profit foundation they started called Now I Play Along Too, which provides musical instruments and education for orphans, victims of disasters, and underprivileged kids locally and around the world. Photos of those who donated to the cause will be incorporated into the album cover to illustrate the idea of people coming together to do something that matters.

Like their music and lyrics, the idea for Now I Play Along Too is truly inspired. "Sammy and Tyler's great-grandfather grew up in a poor family with four brothers, with little money for food, let alone anything extra for entertainment. Then one day, an anonymous person came to door and left five instruments on the front porch. Each of the brothers picked an instrument and learned how to play, eventually improving to make quite a name for themselves as town musicians and were able to provide for their family," explains Rhodes.

Now, the legacy is carried on through the band, whose name is a made-up word mashing "melody" with "time" to signify memories in the form of sound, which is quite fitting for the band often described as "modern, yet nostalgic." They are continuing that story and putting instruments into the hands of people who would've never been able to afford them. The band is living the idea of looking outside yourself described best in, "Where the Sinners & the Saints Collide," their thematic record about coming together, regardless of our differences, to do some good. "The album carries strong themes of redemption and has songs about picking yourself up from your boot straps, using those past mistakes and failures to make yourself a better person to help people who may be 'lost and broken' so to speak. Although we may strive to be saints, we all fall short and are collectively sinners. The 'collide' part comes from the point at which we all come together for a common purpose," says Rhodes, who adds that the theme picks up where the 2011 album "3 Reasons For Fighting" left off.

"Where the Sinners & the Saints Collide," recorded at Black Dog Sound Recording Studios outside in Atlanta, GA with producer Rick Beato (Shinedown, NEEDTOBREATHE, Charlie Mars), opens with the emotional rocker "Halo," which Rhodes describes as carrying the thesis of the album as it tells the story of someone that no one would give a second chance to, yet they are capable of doing so much good if they can just get to that next phase of their life. The inspired lyrics, partly influenced by the demise of Sam Duis' marriage, pack a powerful emotional punch as Rhodes soulfully sings, "I'm building kingdoms now from this abandoned town" - a metaphor for rising up after personal adversity.

MELODIME is what's missing in music today - a band that tells stories from their deepest recesses of their hearts and souls; a band that seamlessly blends the musical past with the sounds of the future, and a band that isn't just making an album for the greater good of their band. "Make an album, change a life." It's not just a campaign slogan; it's their life goal.
Effortlessly balancing the tightrope between Pop, Country, Americana, and Indie Rock, Shane Gamble's music comes across like a freight train heading full steam on the road less travelled. Propelled by a steady and assured rhythm section, layered guitars, and beautiful vocal harmonies, Shane rhapsodizes about love, loss, and emotional redemption.

Shane Gamble: In 2013 Shane is riding high on the success of his Top 10 single, "Turn My Way." The groundbreaking SiriusXM country music channel, "The Highway" has enabled Shane to crash the party as an independent artist gaining new fans around the globe and serious buzz within the star making music industry crowd.
The Maryland native is working intently in his home-studio on a mix for "Blue Sky", a track off his eponymous album. It sounds warm and immediate; it's a song that could potentially explode on the radio – led by a reverb saturated acoustic guitar. "I'll listen to a section over and over again," he notes. "I want the chorus to explode, but not hurt the ears. I want it to be warm and loud." He fiddles with a few more studio settings, closes his eyes and listens. After a moment he suggests that he might be getting closer, but he's not there yet.

The Morrison Brothers: Founded in 2006 by brothers Truman and Willie Morrison, the California-based outfit began composing the groundwork for their debut album by performing regularly in the Los Angeles area. After relocating to their hometown of Washington D.C. in 2008, the Morrison Brothers assembled a new lineup with New Orleans based brothers Matt and Kevin Nolan to build an East Coast following and finish work on their first album, "Midnight in Virginia." In 2009, the opening track off the album took first place in the Mid-Atlantic Songwriting Competition. A year later, the group was selected as the Gigatone Songwriter and Performer of the Year.
In the summer of 2011, the Morrison Brothers independently released their second album, "Shotgun Silhouette." Several singles from the album are still experiencing regular airtime on radio stations such as 98.7 WMZQ. Maryland based multi-instrumentalist Dave Benson and Nashville Star finalist Alyson Gilbert were added to the fold as full time members of the band.
2013 has shown their most impressive effort to date with the released of their 3rd full length album "State of the Union". The album was produced by Scott Robinson and mixed by Jeff Juliano (John Mayer, Dave Matthews) and the single "Little Miss Whiskey" has gained airplay on over 250 mainstream and independent radio stations across the country.
18 and up to enter. VALID ID required.