Back to Event List
Tue 05.16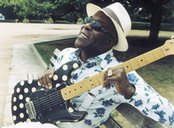 Seven Time Grammy Award Winner
BUDDY GUY - SOLD OUT
with Quinn Sullivan
Genre: Blues
Doors: 6:30 PM
Showtime: 7:30 PM
Tickets: This event has already occurred. Tickets are unavailable.

THIS SHOW IS SOLD OUT. THERE ARE NO MORE TICKETS AVAILABLE.
THERE ARE NO MORE DINING RESERVATIONS AVAILABLE FOR THIS SHOW. A LIMITED NUMBER OF DINING TABLES WILL BE AVAILABLE ON A FIRST COME, FIRST SERVE BASIS.
Buddy Guy is one of the most celebrated blues guitarists of his generation (and arguably the most celebrated), possessing a sound and style that embodied the traditions of classic Chicago Blues while also embracing the fire and flash of rock & roll. He was inducted into the Rock & Roll Hall of Fame in 2005, with both Eric Clapton and B.B. King presenting him with his award, and in 2012 he performed a special concert at the White House, where he persuaded President Barack Obama to join him at the vocal mike for a few choruses of "Sweet Home Chicago."
You must be 18 or over to enter unless accompanied by your parent. Valid ID required.