Back to Event List
Thu 06.05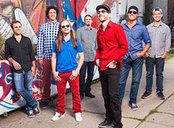 THE MOTET
with Yellow Dubmarine
Genre: Funk / Rock
Doors: 7:00 PM
Showtime: 9:00 PM
Tickets: This event has already occurred. Tickets are unavailable.

Hailing from Colorado, the Motet is a world-class improvisational funk band that has dedicated more than a decade to the healing powers of funky dance music. Although the early years of the band saw a constantly revolving cast of musicians, the most recent incarnation has been touring the country for the last several years developing a new and unique style with roots in funk, afrobeat, disco, electronic music, and soul. This new Motet has quickly gained a reputation for throwing infectious dance parties everywhere they go, creating a deep rapport between band and audience.


With the release of their 7th album, the Motet has once again showcased their commitment to pushing the sonic envelope while remaining dedicated to the musical traditions that have defined their sound. The band's decision to call the album "The Motet" is a reflection that the group has finally become what it has striven to be throughout its existence. The album is a truly collaborative effort, with each member contributing equally to the writing process. In addition, the band spent hundreds of hours in the studio meticulously crafting vintage tones that hearken back to the glory days of funk music. The result is an organic collection of strong interlocking parts and melodies that sounds like nothing else on this planet.
"The Motet's eponymous album represents everything that is pure, organic and blissful about the band's music."
Charles Sokolof – Grateful Web
"…55 glorious minutes of Motet music that showcases their growth as individuals and as an unstoppable funk machine in the span of nine tracks."
Susan Rice – Upstate Live
Yellow Dubmarine pays tribute to the greatest Beatles songs of all time, performing the music from the "1" album in a tightly rehearsed reggae style. Crowds of young and old are flocking to experience Yellow Dubmarine's imaginative and irie vibes. Between the Beatles classics, slinky reggae grooves, and skanky horns, every show is sure to be a punky reggae party.
18 and up to enter. VALID ID required.