Back to Event List
Thu 07.31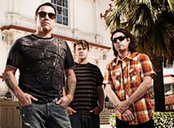 SMASH MOUTH
with The Raised By Wolves
Genre: Rock
Doors: 7:00 PM
Showtime: 8:00 PM
Tickets: This event has already occurred. Tickets are unavailable.

"We've got so many hits on this new record it's ridiculous" says Smash Mouth lead singer Steve Harwell. Harwell oughta know a thing or two about hit songs. His band has charted more hits than a World War || battleship. Smash Mouth, the band that's given you such memorable songs as "All-Star," "Walkin' on the Sun," "Then the Morning Comes," and "I'm a Believer," is back for more season-of-the-sun fun with their vibrant new CD "MAGIC".
Check out The Raised by Wolves here.
"It's a very melody-driven record, and yet, the material as a whole dodges and weaves in atypical fashion. And this is a very good thing…Listening to Sadie Hawkins for the first time is one of those magical musical moments that just hurtles at you from out of the blue." - Indie-Music

"The Raised By Wolves are two lifelong friends...and on Hawkins that easy familiarity with one another's music styles shine through." - The Village Voice

"Fun-loving indie rock" – The Washington Post
18 and up to enter. VALID ID required.