Back to Event List
Fri 07.10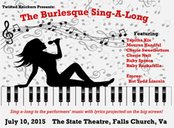 BURLESQUE Sing-A-Long!
Genre: Burlesque
Doors: 7:00 PM
Showtime: 9:00 PM
Tickets: This event has already occurred. Tickets are unavailable.

Ever go to a burlesque show and the performer is doing a a routine to a song that you just have to sing along with? Well, now you can do it!. The Burlesque Sing-A-Long features tunes you can't help but belt along with! Not sure you know all the words? Don't worry. We'll have the lyrics projected on the big screen for you to follow along.
Performing:
Tapitha Kix
Mourna Handful
Chérie Nuit
Cherie Sweetbottom
Ruby Rockafella
Ruby Spruce
Emcee Hot
Todd
Lincoln
18 & up to enter. VALID ID required.