Back to Event List
Fri 05.25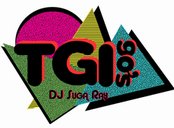 TGI90s PARTY
w/DJ SUGA RAY
Genre: Dance Party / DJ
Doors: 8:00 PM
Showtime: 9:30 PM
Tickets: This event has already occurred. Tickets are unavailable.

JOIN US FOR HAPPY FROM 8PM - 9PM!
An incredibly gifted DJ known for his fast record flipping and live remixes, Suga Ray is the ultimate party DJ! From hip-hop to reggae to rock to soul, Ray is comfortable with every genre of music and has an encyclopedic knowledge of mainstream hits and underground classics. He has rocked practically all of NYC's top clubs over the past few years (not to mention right here at State with the Bayside Tigers) and has spun tracks at parties for celebrities like Jennifer Aniston and Ludacris! With his amazing versatility and raw talent, Ray has emerged as the next big DJ in NYC.

We are excited to bring Dj Suga Ray back to the DMV for a special 90's themed party!
You must be 18 or over to enter unless accompanied by your parent. Valid ID required.
Save some money! There's only a $1 fee when you buy your ticket at the box office.