Back to Event List
Tue 02.16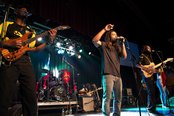 THE WAILERS
with Nappy Riddem
Genre: Reggae
Doors: 7:00 PM
Showtime: 8:00 PM
Tickets: This event has already occurred. Tickets are unavailable.

Together with Bob Marley, The Wailers have sold over 250 million albums and have played to an estimated 24 million people across the globe performing an average of 200 dates a year. The anchor of the band is Aston "Family Man" Barrett, who in addition to being Marley's most trusted lieutenant and co-producer, played on countless other classic reggae hits throughout the seventies. The authenticity he brings to the Wailers' sound is indisputable and yet today's line-up combines old school know-how with lead vocals from one of Jamaica's most exciting new singers. The Wailers are undoubtedly the world's premier reggae and world music group who bring high energy shows to fans across the globe.
The band performs varied sets from the extensive Wailers discography including those from Legend. Legend is #46 on Rolling Stone Magazine's 500 Greatest Albums of All Time. Legend is also the best-selling reggae album of all-time, with over 30 million copies sold worldwide and a 2014 re-release topped Billboard's Top 5 – proving the timeless appeal of their music spans generations. On its resurgence in popularity, Aston 'Family Man' Barrett laughs said the following: "It only took 30 years. My life with The Wailers has been an odyssey. To be in the top ten is hard for me to even imagine. We've come so far. Sharing this music with so many people around the world was my last promise to Bob and here we are."
The band also performs selections from Exodus named by Time Magazine as the "Album of the 20th Century", it was released in 1977. In keeping with the band's tradition of touring with album themes, the Wailers have been performing entire sets devoted to songs from the specific albums, Legend, Exodus, Uprising and the album Survival released in 1979.
Since releasing their debut album on Fort Knox Recordings in 2011, NAPPY RIDDEM has been busy touring nationwide and releasing a string of remixes, transforming itself into an uplifting and conscious reggae band that is funky enough to pack the dance floor. Started by Mustafa Akbar and Rex Riddem, Nappy Riddem has expanded into a six-piece band, whose live show is engaging and compelling, getting the crowd moving and grooving with a smile on their faces.
In 2013 Nappy Riddem released "The Rock Steady EP" and was awarded "Best Reggae Recording" by the Washington Area Music Association, in 2014. Nappy Riddem stepped out of the studio to focus on touring. They've toured up and down the East Coast as well as Texas, Colorado and California. Nappy Riddem has headlined world famous venues like the 9:30 Club and Brooklyn Bowl. This band of brothers has had the pleasure of supporting Steel Pulse, the English Beat, Go-Go rockers Experience Unlimited, The Original Wailers, John Brown's Body, Lee Scratch Perry, and Bob Marley's Legendary Guitarist Junior Marvin. Junior Marvin also selected Nappy Riddem to mentor and tour with him as his backing band during their 2014 California tour. The highlight of which was headlining the prestigious Joshua Tree Music Festival. Nappy Riddem's performances meld Reggae, Rock, and Soul together into their unique brand of "Dancehall Funk".
"Nappy Riddem's "One World Sovereignty" debut is a rhythmic, global-flavored collection of positive-minded songs." Fritz Hahn - Washington Post
18 & up to enter. VALID ID required.