Back to Event List
Fri 05.03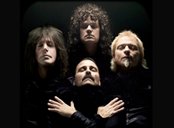 ALMOST QUEEN
Genre: Tribute
Doors: 7:00 PM
Showtime: 9:00 PM
Tickets: This event has already occurred. Tickets are unavailable.

There are no more dining reservations for this show. A limited number of dining tables will be available on a first come, first serve basis starting at door time.

THE most authentic QUEEN live show since the days of QUEEN themselves.
A deliberate 4 piece band, Almost Queen delivers a live show consisting of signature four-part harmonies and genuine costumes while recapturing the live energy that is THE ultimate Queen experience.

Admit one cards are NOT valid for this show.
You must be 18 or over to enter unless accompanied by your parent. Valid ID required.
Save some money! There's only a $1 fee when you buy your ticket in person at the box office.