Back to Event List
Sat 07.23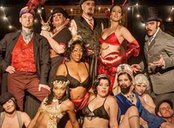 The Carnivalesque Roadshow
Genre: Burlesque
Doors: 8:00 PM
Showtime: 9:00 PM
Tickets: This event has already occurred. Tickets are unavailable.

Harkening back to a bygone era of dust bowl circuses & traveling sideshows,
The Carnivalesque Roadshow
stars international cabaret legend Armitage Shanks, The Carny Preacher, Burlesque Hall of Fame's 2012 "King of Boylesque" Russell Bruner, "Baltimore's Sicilian Queen" Maria Bella, Sideshow phenom, "Pain Proof Girl" Mab Just Mab, comedian and sideshow geek,Swami YoMahmi, aerial artistry by Sadie Hawkins, the burlesque delights of Gilded Lily's Gigi Holliday, Sophia Sunday,Mourna Handful, Nona Narcisse as well as a bevy of buxom beauties and handsome hunks plying their trade at the The Carnivalesque Roadshow Cooch Tent& along Mab's Midway. Far more than your run-of-the-mill burlesque or nightclub event, The Carnivalesque Roadshow offers an immersive experience into the enticing world of acrobats, freaks, roustabouts, barkers, dandies and women of questionable virtue.
Be shocked & amazed by oddities inside our "Ten-In-One"!

Witness the libidinous temptations of the dance of forbidden vice!

Hear dark tales of extraordinary madness whispered into the ears of fallen maidens! Thrill to lithe sensuality of aerial artistry and athletic aplomb!

Enjoy the twist & turns of flexible comedic contortion!

​

Try your hand ​at games of skill on the midway!
The Carnivalesque Roadshow is the latest creation of Armitage Shanks, The Carny Preacher and Gilded Lily's Maria Bella. Armitage Shanks was the co-founder and ringmaster of the legendary underground circus, Circus Contraption. Hailed by Time Out London as "One of the darkest-hearted performers on the Burlesque/Cabaret Circuit", best-selling author and columnist Dan Savage wrote Armitage Shanks has, "A voice like honey-coated gravel. A sinister and louche presence, who put some sex in the air." Armitage stars as "Johnny Valentine" in the upcoming feature film 'The Burlesque Assassins". Maria Bella founder of Baltimore's hometown heroines, "Gilded Lily" is a rising star in the neo-burlesque movement, with triumphant performances throughout North America. She was a featured artist in the 2012 New York & Toronto Burlesque Festivals, and will be appearing in the 2014 London Burlesque Festival. Gilded Lily Burlesque voted Baltimore's Best Burlesque by The Baltimore City Paper and the top burlesque shows to see by The Baltimore Sun.
18 & up to enter. VALID ID required.