Back to Event List
Wed 09.21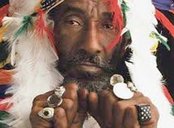 LEE "SCRATCH" PERRY
and SUBATOMIC SOUND SYSTEM with YOLA and Dub Architect
Genre: Reggae
Doors: 7:00 PM
Showtime: 8:00 PM
Tickets: This event has already occurred. Tickets are unavailable.

Some call him a genius, others claim he's certifiably insane, a madman. Truth is, he's both, but more importantly, Lee Perry is a towering figure in reggae -- a producer, mixer, and songwriter who, along with King Tubby, helped shape the sound of dub and made reggae music such a powerful part of the pop music world. Along with producing some of the most influential acts (Bob Marley & the Wailers and the Congos to name but two) in reggae history, Perry's approach to production and dub mixing was breathtakingly innovative and audacious -- no one else sounds like him -- and while many claim that King Tubby invented dub, there are just as many who would argue that no one experimented with it or took it further than did Lee Perry. (-from allmusic.com)
Hailing from our nation's capital, Jason Berto aka Yola is dedicated to fostering the ideals of sound system culture in the United States, and most importantly on his home turf in Washington, D.C. via his night "Computa Age", now in it's fifth year and still running strong. Yola reaches his global audience through his monthly radio show, "Computa Age", on the award winning, www.sub.fm, the fourth Sunday of every month (6PM-8PM EST), now in its fourth year.

Yola's DJ career originated from his love for collecting music. Inheriting a vinyl collection from his father at an early age set the stage for his addiction to white labels, limited quantity pressings, and sound. Analog vibes have, and forever will, play a major role in his progression into the digital age. His love for collecting developed into a love for sharing. Curating and exposing the music he holds near and dear became paramount through the launch of his record label, Grand Ancestor, in 2013. The goal, to expose his audience to new and noteworthy music from around the world. The label is now in it's third year and making a serious name for itself around the globe for its sound system anthems and dedication to limited quantity, vinyl only releases.

In addition to running Grand Ancestor Records, Yola currently operates Washington, D.C.'s first custom Jamaican-style stack known as Grand Ancestor Sound System, hosting earth shattering dances throughout The District.
18 & up to enter. VALID ID required.