Back to Event List
Sat 03.07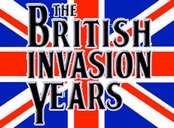 THE BRITISH INVASION YEARS
Genre: Tribute
Doors: 7:00 PM
Showtime: 9:00 PM
Tickets: This event has already occurred. Tickets are unavailable.

There are no more dining reservations for this show. A limited number of dining tables will be available on a first come, first serve basis starting at door time.

The Beatles arrived in the U.S. on February 9, 1964. But that was only the beginning...
The British Invasion Years goes through the classic songs of iconic sixties groups including The Beatles, The Rolling Stones, The Who, The Kinks, Herman's Hermits, The Zombies & more.
Then, the American response with songs from The Beach Boys, The Monkees, The Doors, Steppenwolf & more.
Finally, a closing with the songs of The Beatles.
Experience this amazing nostalgic journey through the Sixties and CELEBRATE THE GROOVY GENERATION with THE BRITISH INVASION YEARS!
You must be 18 or over to enter unless accompanied by your parent. Valid ID required.
Save some money! There's only a $1 fee when you buy your ticket in person at the box office.