Back to Event List
Fri 07.14
MATT KAZAM
40 IS NOT THE NEW 20: STRAIGHT FROM LAS VEGAS
Genre: Comedy
Doors: 7:00 PM
Showtime: 9:00 PM
Tickets: $22 advance /$27 day of show

Matt Kazam brings his hilarious one-man comedy show straight from the Las Vegas strip to The State Theatre! 40 Is Not The New 20 tackles the subject matter both literally and figuratively. The material explores how much the world has changed in the past 40 years. The show is a mid-life celebration of the knowledge and experience that can only be gained with age. The show is like comfort food for the soul. It puts the notion that 40 is the new 20 on trial and breaks down the concept into categories such as technology, the media, politics, relationships, family, our priorities and even how much our bodies have changed over the years. Matt Kazam walks the audience through specific and general examples on how the 40 is not the new 20 and more importantly why? All the while, the audience is being thoroughly entertained as well as feeling an overwhelming sense of nostalgia. Everyday topics like marriage, fashion, parenting, work, commuting, bills and exercise, just to name a few, will be compared and contrasted though the eyes of a 40+ year-old taking a look at today's 20 year-old young adult.

Don't miss this chance to see Las Vegas entertainment without leaving the state! Matt's show 40 is Not the New 20 leaves audiences in stitches with non-stop laughter throughout the entire show. He has made numerous television appearances on NBC's "Last Comic Standing", Fox's "Big Red Couch", Comedy Central's "Stand-Up Stand-Up", VH-1's "Fools For Love", TLC's "Two For Vegas", The Discovery Channel's "Lux List", and WGN's "The Bob & Tom Show."

Matt's energetic style, witty observations and unassuming charm combined with his youthful enthusiasm and instant likeability are the driving forces behind his unique and hilarious comedy. Matt performed a long-running residency of his one-man comedy show 40 Is Not The New 20 Monday–Saturday at The Riviera Hotel & Casino in Las Vegas, where he was the last person to perform at the iconic property that saw Sinatra, Elvis, and other Vegas Legends perform. Beginning in December, 40 Is Not The New 20 begins a new residency at The Linq Hotel & Casino in Las Vegas.

CHECK OUT THE VIDEO LINK BELOW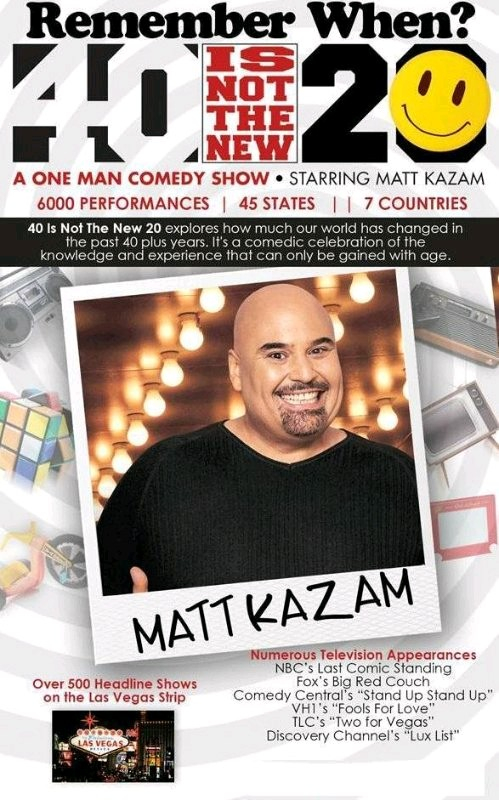 You must be 18 or over to enter unless accompanied by your parent. Valid ID required.