Back to Event List
Sat 12.08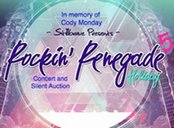 Stillbrave Childhood Cancer Foundation Presents:
Rockin' Renegade V Possessed by Paul James
Benefit Holiday Concert
Genre: Rock
Doors: 6:00 PM
Showtime: 7:00 PM
Tickets: This event has already occurred. Tickets are unavailable.

This year's line-up includes

Possessed by Paul James:
"The mix of roots and emotional electricity at a Possessed by Paul James show is akin to a live electric socket missing its cover as stripped wires spark with flickers of enthralling danger.
This one-man folk storm is mind-blowingly charismatic, going wherever the spirit moves him"
- KUT Radio Austin TX.
Konrad Wert, known as Possessed by Paul James since 2005, is an American folk singer, songwriter and musician from Lee County, Florida. His music is composed of string instruments including banjo, guitar and fiddle with written roots within folk, blues and punk. Raised within a small Mennonite Community among pacifists, service workers and transplants.

From the Ashes (Tattoo Tom's new band)

Eclectic mix of punk, rock, metal and unlikely favorites all rearranged Renegade Style.
Featuring Tattoo Tom, Shannan Mitchell and Al Simensky formerly of Tattoo Tom & the Renegades with new members Steve Bowels and Dave Buskell of Pharmacy Prophets plus D.C. drumming legend extraordinaire Nate Oliver. From the Ashes definitely rises to the occasion.

PLUS, SPECIAL GUESTS TO BE ANNOUNCED SOON


There will be silent and live auctions, raffles and surprises all night long!
All contributions to Stillbrave are tax-deductible to the fullest extent allowed by law. We suggest you check with tax advisor to verify the tax deductibility of your gift.
Stillbrave Childhood Cancer Foundation is exempt from Federal income tax as described in section 501(c)3 of the Internal Revenue Code. The official registration and financial information of Stillbrave Childhood Cancer Foundation may be found under Tax ID 45-5426039