Back to Event List
Fri 01.05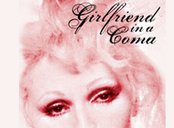 GIRLFRIEND IN A COMA
A Tribute to Morrissey and The Smiths
Genre: Tribute
Doors: 7:00 PM
Showtime: 9:00 PM
Tickets: This event has already occurred. Tickets are unavailable.

A farewell show...
Girlfriend In A Coma is a celebration of the art created by Morrissey and The Smiths. Twenty years after the breakup of one of alternative rock's most influential bands, there is no sign of a reunion from Morrissey and band mates. Girlfriend In A Coma creates an authentic experience for fans that once witnessed the brilliance of The Smiths and fans that have been denied the opportunity. To continue paying homage to the band's front man, Girlfriend In A Coma also performs selections from Morrissey's solo career. This is truely the unhappy 20th anniversary tour for Morrissey fans.
You must be 18 or over to enter unless accompanied by your parent. Valid ID required.
Save some money! There's only a $1 fee when you buy your ticket in person at the box office.