Back to Event List
Fri 03.24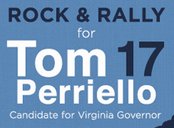 Rock and Rally with Tom Perriello
Genre: Rock
Doors: 7:00 PM
Showtime: 7:00 PM
Tickets: This event has already occurred. Tickets are unavailable.

Join us at our next Rock and Rally at the State Theatre in Falls Church on March 24. We'll be joined by a diverse lineup of exciting international and local musical groups in support of our progressive campaign.

Sierra Leone's Refugee All Stars, a world-renowned music group born in refugee camps during the brutal Sierra Leonean Civil War, will headline the event. Tom worked in Sierra Leone during the same war-time period, seeking justice for victims of the conflict. Tom and the Refugee All-Stars have joined together to defend refugees in the face of the Trump administration.

We'll also be joined by Nag Champa DC, a critically-acclaimed futuristic funk art ensemble and the Perriello Pickers, a Virginia bluegrass group formed to help elect Tom.
All Ages. 21 & up to drink.