Back to Event List
Sat 05.06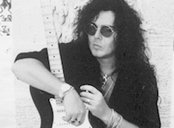 YNGWIE MALMSTEEN
with The Raskins
Genre: Rock
Doors: 7:00 PM
Showtime: 9:00 PM
Tickets: This event has already occurred. Tickets are unavailable.

Please note: there are no more dining reservations available for this show. A limited number of dining tables will be available on a frist come, first serve basis.
Yngwie Johann Malmsteen is a world-renowned guitarist from Stockholm, Sweden. As a young boy, Yngwie originally had no interest in music, but that all changed on September 18th, 1970 when he saw a TV special on the late Jimi Hendrix. Seven-year-old Yngwie watched in awe as Hendrix blasted the audience with torrents of feedback and sacrificed his guitar in flames. The day Jimi Hendrix died, the guitar-playing Yngwie was born. Yngwie Malmsteen's career has spanned over 40 years with over twenty albums to his name. Drawing influence from classical composers such as Bach, Paganini, and Vivaldi, Yngwie is responsible for birthing the neo-classical genre to the world of rock.
The Raskins describe their sound as "retro/rock," and upon hearing their self-titled debut album, many will instantly agree. Comprised of twins Roger and Logan Raskin, the duo is equally at home offering up such rocking tunes as the single "We Had It All," and more pop-oriented fare as "Open Our Eyes." With plans to tour the US and the rest of the world after the album's sophmore release on May 13, 2014, it is only a matter of time until the Raskins claim their spot alongside the top melodic rock acts.
You must be 18 or over to enter unless accompanied by your parent. Valid ID required.