Back to Event List
Thu 05.04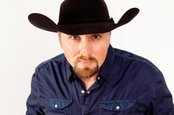 X FACTOR WINNER
TATE STEVENS
with Shane Gamble and Celeste Kellogg
Genre: Country
Doors: 7:00 PM
Showtime: 8:00 PM
Tickets: This event has already occurred. Tickets are unavailable.

Tate Stevens has captured America's hearts by doing the one thing he does best: being himself.With his powerful vocals, compelling life story and irresistible personality, Tate has won Fox's X Factor and scored a Top 5 album. He's also found success when his song "Holler If You're With Me," which debuted during a Pepsi commercial that aired during the Grammys, was chosen to be featured during the Southeastern Conference basketball tournament.
It's no surprise that he's also quickly built a fan base numbering in the millions, especially among working men and the women who love real men. Tate has emerged as a sex symbol of the flyover states, where men are valued for accepting responsibility, respecting women and relishing the simple joys in life. He has a down-to-earth accessibility, a sense of humor that rivals Bill Engvall's and the ability to put into words what men want to say.
You must be 18 or over to enter unless accompanied by your parent. Valid ID required.