Back to Event List
Fri 09.08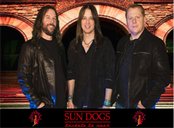 SUN DOGS - TRIBUTE TO RUSH
Genre: Tribute
Doors: 7:00 pm
Showtime: 9:00 pm
Tickets: This event has already occurred. Tickets are unavailable.

SUN DOGS is the premier Rush tribute band. We are Mark Schenker of KIX on bass, vocals and all things Geddy, along with two founding members of Rush tribute band Blame Canada - Vince Tricarico on drums and Andy Rabin on guitar.

Check out the band's promo video HERE.

18 & up to enter unless accompanied by one's own parent. VALID ID required.

Save some money! There's only a $1 fee when you buy your ticket at the box office.