Back to Event List
Sat 03.03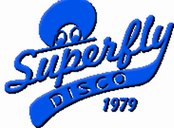 Superflydisco
The Ultimate 70s Disco Funk
Genre: Dance Party / Tribute
Doors: 7:00 PM
Showtime: 9:00 PM
Tickets: This event has already occurred. Tickets are unavailable.

Back in 2004, Vito decided that he wanted to bring the infectious sounds of the 70's back to his hometown upon returning from an inspiring multi-year tour of the globe that took him from Boston to LA to NYC to London to Florida and beyond. Along the way, he joined up with a few other acts that were throwin' down some heavy 70's disco-funk and when he knew his return to DC was eminent, he thought to himself, "There must be one of these crews back home!". It turned out there wasn't. So Vito brought together the funkiest of cats he could find that were down for the mission and now with over 50 years of collective experience performing, recording, touring and grooving, SFD has achieved a benchmark of energy that can be witnessed at any performance, big or small...
You must be 18 or over to enter unless accompanied by your parent. Valid ID required.
Save some money! There's only a $1 fee when you buy your ticket in person at the box office.
Half Balcony rented