Back to Event List
Fri 05.04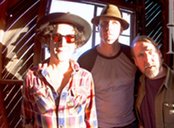 BLIND MELON
The Cringe
Genre: Rock
Doors: 7:00 PM
Showtime: 8:00 PM
Tickets: This event has already occurred. Tickets are unavailable.

In recent years, the tale of Blind Melon has taken a dramatic turn – from an abrupt and tragic end, to a rebirth and reconnection with their legion of dedicated fans. No matter how you slice it, the group was responsible for some of the most memorable and pure-sounding rock music of the '90s, and with their reformation in 2007 with singer Travis Warren, Blind Melon have picked up with their fans, exactly where they left off. Blind Melon originally formed in 1990 in Los Angeles, California, when five transplants from other states crossed paths – singer Shannon Hoon (from Indiana), guitarist Christopher Thorn (from Pennsylvania), and guitarist Rogers Stevens, bassist Brad Smith, and drummer Glen Graham (all from Mississippi). With a buzz created around the band shortly thereafter due to Hoon's appearance on Guns N' Roses' 1991 release, 'Use Your Illusion' (and specifically, the hit single/video, "Don't Cry"), a recording contract soon followed with Capitol Records. The group's now-classic self-titled debut followed in 1992.
The album saw the group fit in perfectly with the then-burgeoning alt rock/grunge movement, due to their stripped-down, rootsy sound, as evidenced by such standouts as "Tones of Home" and "Change." But it was the song "No Rain" that became a smash on radio and MTV a year later, and Blind Melon became one of rock's feel-good 'overnight success stories.' As the album scaled the charts, plum opening gigs piled up over the next year – Guns N' Roses, Neil Young, Lenny Kravitz, and the Rolling Stones, as well as an unforgettable appearance at Woodstock '94. Despite high expectations, the group's sophomore release, 1995's 'Soup,' was panned by critics upon release. Over the years however, the album has rightfully become recognized as one of the decade's most underrated rock gems, spawning such standouts as "Galaxie," "Toes Across the Floor," and "Mouthful of Cavities." Barely over two months after the album's release, Hoon died while on tour from a drug overdose, at the age of 28. The four surviving members regrouped and issued an outtakes collection, 1996's 'Nico' (named after Hoon's then-baby daughter, and spawning such further Melon classics as "Soup" and "Soul One"), as well as the Grammy nominated home video, 'Letters from a Porcupine.' An attempt to find a replacement for Hoon was abandoned, and in 1999, the group officially went their separate ways. Smith and Thorn subsequently formed a short-lived group, Unified Theory featuring Dave Krusen of Pearl Jam and Chris Shinn of Live, as well as opening up their own recording studio (Wishbone), and becoming much-in-demand producers, working with such artists as Anna Nalick, Critter Jones and Under the Influence of Giants. Thorn also played in Live and Awol Nation and Smith has released two full length solo records under the moniker "Abandon Jalopy". Read more
You must be 18 or over to enter unless accompanied by your parent. Valid ID required.
Save some money! There's only a $1 fee when you buy your ticket in person at the box office.