Back to Event List
Fri 06.15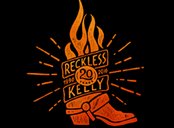 RECKLESS KELLY
with Jesse Dayton
Genre: Rock
Doors: 7:00 PM
Showtime: 9:00 PM
Tickets: This event has already occurred. Tickets are unavailable.

The band's co-founders and frontmen toured the country as part of their father's band, Muzzie Braun and the Boys, as children. They performed on The Tonight Show twice. Their father taught his four sons a professional ethic – integrity, persistence, hard work and professionalism – honed over three generations. They overcame hardships, struggled for recognition, and learned the lessons of the trial and error that defined them.
In one sense, it's remarkable in the way of any musician, athlete, or businessperson who bucks the odds.
In another, though, it's utterly natural that Reckless Kelly, born in the dreams of the two Braun brothers and their heritage but nurtured in the bumpy road of maturity, became the very essence of Americana music in all its far-flung glory.
"We came along in that second wave of the movement," Cody Braun says. "Son Volt's album Trace had a major effect on us. People like Joe Ely, Ray Kennedy and Robert Earl Keen were always big supporters. Our goal was to make music that had a country vibe but a solid rock edge."
In the end, all the recipe required was to just add water. Water facilitates life. It enriches the soul.
As Music Row magazine proclaimed, "In my perfect world, this is what country radio would sound like."
"This" is Reckless Kelly.
​The heartland gave the band authenticity. Musical lives honed its skill. Adversity instilled its persistence. Moving to Austin gave it wings to fly.​
As kids, the Brauns – Cody, Willy, Micky and Gary – shared a stage with the likes of Johnny Cash, Glen Campbell and Merle Haggard. Micky and Gary Braun now helm their own band, Micky and the Motorcars. In Bend, Cody and Willy added drummer Jay Nazz, who brought with him his own unique experience.
"I had grown up in the Northeast, performing at clubs and weddings with my dad and brother from the age of 13," Nazz recalls, "so, when I met Willy and Cody, we already had that in common. Both of our dads were musicians with a very similar kind of performing discipline. That helped us bond immediately."
The band took its name from the legend of Ned Kelly, the Australian highwayman, and the three moved to Austin in the autumn of 1996, where they carved a niche of their own. Early on, Keen, a Texas legend himself, took them under his wing and became their first manager. They listened, watched and interacted with the creative dynamos of the outlaw country scene – Townes Van Zandt, Steve Earle, Billy Joe Shaver, Guy Clark and others – and joined them in a redefinition of what contemporary country music had become. Theirs was gritty, hard-edged, uncompromising and convincing. They turned country music real again.
You must be 18 or over to enter unless accompanied by your parent. Valid ID required.

There are no more dining reservations for this show. A limited number of dining tables will be available on a first come, first serve basis starting at door time.
Save some money! There's only a $1 fee when you buy your ticket in person at the box office.