Back to Event List
Sun 07.22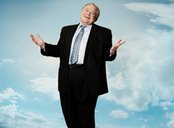 LOUIE ANDERSON
With Danny Rouhier & Matt Stofsky
Genre: Comedy
Doors: 6:00 PM
Showtime: 8:00 PM
Tickets: This event has already occurred. Tickets are unavailable.

There are no more dining reservations for this show. A limited number of dining tables will be available on a first come, first serve basis starting at door time.
Iconic comedian Louie Anderson, the three-time Emmy Award® winner, is one of the country's most recognized and adored comics; named by Comedy Central as "One of 100 Greatest Stand-Up Comedians of All Time." His career has spanned more than 30 years. He is a best-selling author, star of his own stand-up specials and sitcoms and he continues to tour the country performing to standing-room-only crowds worldwide. Read More


As a standup comic, Danny Rouhier is fast-paced, clever, and self-deprecating with dozens of voices and characters. He is also super humble and doesn't like to talk about it much. He's performed all over North America at clubs like Caroline's on Broadway, The DC Improv, Funnybone comedy clubs and at festivals in Boston, DC, Detroit, Seattle and a bunch more stuff that's totally impressive. Danny was also the studio comic for the Tyra Banks Show. Seriously. That was a thing. Danny has shared the stage with industry giants Bill Burr, Jim Norton, Dave Atell, Jim Gaffigan, Bob Saget, Todd Barry, Reggie Watts, Tom Green, and more famous people.

*This is an ALL SEATED event. No standing room available.
*Admit One passes are NOT valid for this show.
You must be 18 or over to enter unless accompanied by your parent. Valid ID required.
Save some money! There's only a $1 fee when you buy your ticket in person at the box office.