Back to Event List
Sat 07.07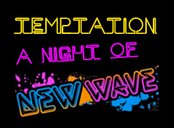 Temptation: A Night of New Wave!
feat. DJ Skruggz and The WAVOS
Genre: Dance Party
Doors: 8:00 PM
Showtime: 9:00 PM
Tickets: This event has already occurred. Tickets are unavailable.

Temptation draws the generation that wants to relive their youth and seduction for the generation that wishes they were there. Venture into the retro and dance the night away with the best 80's Alternative New Wave hits that will keep you dancing all night long.
DJ Skruggz is no stranger to the DJ nightlife scene. Based out of the Washington D.C. area DJ Skruggz has spun records in D.C.'s best alternative clubs since 1986. Dj Skruggz is resident DJ for Temptation at The State Theatre along with gigs at Sehkraft Brewing, O'Sullivans, Gallery O on H, DC 9, Irish Brigade and Rock n Roll Hotel year round AND the annual Poseurs reunion. Dj Skruggz will get you shakin' and movin'
JAGOS Music is pleased to present The Wavos! Scramble up Billy Idol, New Order, the Ramones, Devo and Depeche Mode, and you're getting a taste for The Wavos :: rocktronic dance-pop with a chewy '80s alternawave center. Their live show is an authentic '80s new wave dance party that won't quit. Ride the wave, it's what you crave!
You must be 18 or over to enter unless accompanied by your parent. Valid ID required.
Save some money! There's only a $1 fee when you buy your ticket in person at the box office.