Back to Event List
Sat 10.13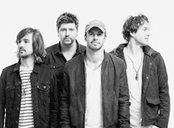 MELODIME
w/ The Brevet
Genre: Rock
Doors: 7:00 PM
Showtime: 9:00 PM
Tickets: This event has already occurred. Tickets are unavailable.

Melodime is a Virginia-based band with influences in both country and rock that features emotionally charged anthems, piano driven hooks, and energetic guitar solos for a dynamic, organic sound. Melodime, featuring Brad Rhodes (lead vocals, guitar), Sammy Duis (piano, organ, bass), Tyler Duis (drums), and Jon Wiley (guitar,mandolin, dobro), has performed over 100+ shows annually throughout the continental United States, sharing the stage with such well-knownacts as Sam Hunt, Eli Young Band, A Thousand Horses, and Sister Hazel.
The band has also left its mark internationally with performances in Mexico, Canada, and Europe, all while founding and running a charity, 'Now I Play Along Too,' which provides musical instruments and lessons to underprivileged children in the DC area, Florida, Nepal, Kenya, and Haiti. The band is quickly becoming a fan-favorite in the festival scene, playing five consecutive Rock Boat cruises, as well as Musikfest, HerndonFestival, Mile of Music, and other events.
In their hometown of Northern Virginia, the group has performed at popular venues such as The State Theatre, 9:30 Club, The Hamilton, and BaltimoreSoundstage. Melodime will be rolling out their new album in 3 EP installments starting with the first single "Song of the Summer"; on June 29th.
You must be 18 or over to enter unless accompanied by your parent. Valid ID required.
Save some money! There's only a $1 fee when you buy your ticket in person at the box office.