Back to Event List
Fri 12.07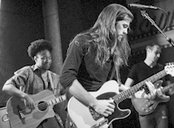 JONNY GRAVE
with Cathy Ponton King
Genre: Blues / Singer/Songwriter
Doors: 7:00 PM
Showtime: 9:00 PM
Tickets: This event has already occurred. Tickets are unavailable.

Jonny Grave is a slide guitarist, singer, songwriter, bandleader, teacher, musical historian, and photojournalist from Washington, D.C. Growing up in a musical family, Jonny Grave was introduced to the sounds of American traditional folk music early on. At age fifteen, he found himself learning slide guitar techniques from old Blues records, and by seventeen he was performing them live. Grave has performed at hundreds of venues around the world from the red dirt floor of Gip's Juke Joint to the red carpet of the Kennedy Center.
DC's own Cathy Ponton King kicks off the night with her iconic sound.
Cathy Ponton King - out of Washington D.C., has a style and grace all her own, even though she is continually compared to such artists as Bonnie Raitt. Her voice is like velvet, with a rich, sassy edge, and her delivery of each song is surely heartfelt. Her [debut] CD, Lovin' You Right was produced by another Washingtonian, Jimmy Thackery, and her talented husband, musician Jeff King. -Nashville Music City Bluesletter
You must be 18 or over to enter unless accompanied by your parent. Valid ID required.
Save some money! There's only a $1 fee when you buy your ticket at the box office.