Back to Event List
Sat 08.03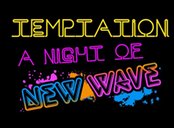 A NIGHT OF NEW WAVE
Feat DJ Skruggz & DJ Lisa White
Genre: Dance Party
Doors: 8:00 PM
Showtime: 9:00 PM
Tickets: This event has already occurred. Tickets are unavailable.

Dj Skruggz & DJ Lisa White return to the State Theatre for a massive 80's New Wave dance party. A night of New Order, OMD, The Smiths, Simple Minds, Tears for Fears, Echo and the Bunnymen and Dead or Alive .
DJs Skruggz and Lisa White spin the turntables down memory lane to the 80's clubs that kept you dancing night after night with the best alternative New Wave.
​​​Known for hosting sell out New Wave Bands, the State Theatre is the perfect setting for a retro DJ dance event in the heart of Falls Church with large dance floor, drink specials and delectable menu. Temptation draws the generation that wants to relive their youth and seduction for the generation that wishes they were there. Break out that skinny black tie and throw on the leather jacket. Venture into the retro and dance the night away. DJ Skruggz​ and DJ Lisa White are no strangers to the DJ nightlife scene. Both are based out of the Washington D.C. area and have spun records in D.C.'s best alternative clubs since the 80's. ​
DJ Skruggz​ has rocked the floor with gigs at Red White Bleu and Brew, Gallery O on H, DC 9, Satellite Room, Little Miss Whiskey, Wolf Trap, Sehkraft Brewing, Bradshaw's, Rock n Roll Hotel, Black Cat, Irish Brigade and resident DJ for Temptation at The State Theatre year round AND the annual Poseurs reunion.
​DJ-ing in the Washington DC area for decades, DJ Lisa White is one of the original Poseurs DJ's along with Bradshaws, Satellite Room, 930 Club and Chief Ike's. DJ Lisa White is a legend in the music scene and always delivers beats that get you into the groove.