Back to Event List
Sun 10.17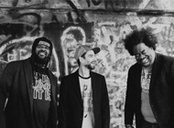 The Delvon Lamarr Organ Trio
w/ Roosevelt Collier
Genre:
Doors: 6:00 PM
Showtime: 8:00 PM
Tickets: This event has already occurred. Tickets are unavailable.

All of our indoor shows require a proof of vaccination (original card or picture is sufficient), or a negative COVID 19 test that is no more than 72 hours old for entry. Please call the box office at 703-237-0300 with any questions.

Delvon Lamarr Organ Trio:


Soul-jazz groove-machine Delvon Lamarr Organ Trio—or as it is sometimes referred to, DLO3—never would have happened without years and years of crummy gigs, and Delvon's staunchly supportive wife, Amy Novo.


The story goes that Hammond b3 organist Delvon would regularly lug his 400-pound instrument from venue to venue barely breaking even to play other people's music, and Amy just got tired of it. She fiercely believed in Delvon's talents, and, eventually, she made an offer he couldn't refuse: If Delvon picked the musicians, she would take care of all the business surrounding it.


"I was watching an amazing talent being marginalized. He would be getting paid like $75 a gig and be spending $60 in gas to cart around his instrument, sometimes even renting a U-Haul. It wasn't fair," says the self-made music mogul who may be the first person to legally own a band. "For years, Amy had been telling me to step out from being a sideman. This was a natural move. Now, I can just play music and not worry— it's been a welcome relief," Delvon says.


The Seattle-based trio's music is best described as "feel good music." DLO3 conjures the smoky 1960s jazz stylings of Jimmy Smith and Baby Face Willette, and the snappy soul strut of Booker T. & The M.G.'s, The Meters, Dr. Lonnie Smith, and Charles Earland. Within DLO3's distinct jazz stew, are also dashes of Motown, Stax Records, blues, and cosmic Jimi Hendrix-style guitar. It's an aesthetic that only these three could muster, as these are the sounds and vibes imprinted in the trio's DNA. The band features Delvon Lamarr, a self-taught virtuosic musician with perfect pitch who taught himself jazz and has effortlessly been able to play a multitude of instruments. On guitar is the dynamo Jimmy James who eases through Steve Cropperstyle chanking guitar, volcanic acid-rock freak-out lead playing, and slinky Grant Greenstyle jazz. From Reno, Nevada is drummer Dan Weiss (also of the powerhouse soul and funk collective The Sextones). Dan's smoldering pocket-groove drumming locks in the trio's explosive chemistry.


Roosevelt Collier:


"Simply put — Roosevelt Collier is a Bad Bad Mother F*****!" – Quincy Jones
"Roosevelt's musicality is like the best New Orleans gumbo, taking bits and pieces of all the best things and cooking it up into something magical." – David Shaw, The Revivalists
"Roosevelt Collier is simultaneously the past, present and future of the Pedal Steel Guitar." – Mojo Magazine


Pedal and lap steel guitar ace ROOSEVELT COLLIER, so proficient he's affectionately know as "The Dr.", released his solo debut Exit 16 in 2019 on Michael League's (Snarky Puppy) GroundUP Music Label. It's a potent mix of blues, gospel, rock, and in his own words, "dirty, funky, swampy grime." The album is produced by Bokanté bandmate Michael League himself, who also plays bass. Brought up in the House of God Church in Perrine, FL, Roosevelt built his "sacred steel" guitar prowess alongside his family in the soul-shaking band The Lee Boys. On his own, Collier has become a sought-after talent both on record and on stage, performing with musical luminaries like The Allman Brothers, Buddy Guy, Del McCoury Band, The String Cheese Incident, Los Lobos, Robert Randolph, and Tedeschi Trucks Band, among countless others.
You must be 18 or over to enter unless accompanied by your parent. Valid ID required.
Save some money! There's only a $1 fee when you buy your ticket in person at the box office.